The Cold Case Justice Initiative (CCJI) at Syracuse University's College of Law examined the current state of the Emmett Till Unsolved Civil Rights Crimes Act during a panel at the National Press Club on Dec. 9, 2014. The Act expires in 2017. Given the recent killings of Michael Brown, Eric Garner, Trayvon Martin and resulting fallout this was a particularly timely and compelling lineup.
---
Reauthorize Emmett Till Act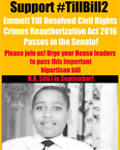 Passage of the Emmett Till Unsolved Civil Rights Crimes Reauthorization Act of 2016 is an essential component of the Nation's responsibility to bring justice in cases of unsolved and ongoing racial violence and racially-motived killings. The Act authorizes and enables the Department of Justice DOJ and the Federal Bureau of Investigation to take required and decisive measures to investigate and resolve cases as fully and fairly as possible.
---
Reauthorization Bill Brought to Congress
Bill Introduced in Congress Brings Cold Case Justice Initiative One Step Closer to Having Emmet Till Unsolved Civil Rights Crimes Act Extended
This week both the House and Senate introduced a bill to reauthorize the Emmett Till Unsolved Civil Rights Crimes Act, which expires in 2017, in a bipartisan effort to continue the work begun by the Department of Justice (DOJ) in 2008. The participation and contributions of the Cold Case Justice Initiative's (CCJI) co-directors and students were instrumental in this legislative development.
"For years now, the Cold Case Justice Initiative and the families who have lost loved ones to racial violence, and with whom we share the struggle for justice, have been pressing our government for full accountability," says CCJI co-director Paula Johnson. "This development by the Unites States Congress is a step in the right direction, but it is only the first step in a new phase."
"It was Dr. King who said the time is always right to do what is right," says Rep. John Lewis. "We can never heal from the injuries of the past by sweeping hundreds of crimes under the rug.  We have an obligation, a mission, and a mandate to continue the effort required to wash away these stains on our democracy."
"I am honored to join Congressman Lewis to introduce this legislation to make it possible for the FBI and the Justice Department to continue their important work to investigate these cold cases and bring the perpetrators of racially-motivated crimes to justice," says Sen. Richard Burr. "Uncovering and confronting the truth about these crimes is essential to ensuring that no one is above the law and that all Americans are worthy of the protection of our laws."
The Till Reauthorization Act includes a significant number of suggestions made by the CCJI which along with its students has been working with legislators for more than a year to ensure the push for justice and full accounting would go on. The Reauthorization allows this to happen. "I am glad to say this bill incorporates the advice and counsel of numerous individuals and groups who are also dedicated to the pursuit of justice in these matters, says Cong. Lewis.  "Their tireless efforts have helped us improve this legislation so that more work can be done to end the pain, doubt and the inconsistent application of justice that has languished unattended for decades."
While the reauthorization will allow investigators to continue their work beyond 2017 there are also other, substantial changes to address gaps in the previous bill such as providing greater transparency in the process, higher level of accountability for the DOJ to report on its progress, and allowing cases occurring in the 1970s, 1980s and beyond to be brought to justice. "Perhaps most significantly to us is that the FBI will be required to travel to the communities to do their investigative work, not simply read over old files from a desk in Washington and make a couple phone calls" says CCJI co-director Janis McDonald. "The Emmett Till Unsolved Civil Rights Crimes Reauthorization Act reflects the realization that racial violence remains a destructive force and that the pursuit of justice has no deadline and cannot be compromised."
The CCJI has watched recent violence, particularly the senseless violence and killings by police against citizens of color captured on camera, with a remarkable sense of déjà vu when looking at our Nation's dark history. "The long forgotten victims of these racial crimes and their families are owed acknowledgement of their loss, accountability of perpetrators for their deaths, and gratitude by our government and entire society for their ultimate sacrifices," says Johnson.
"As we work to address current questions about racial violence and civil rights, we should be mindful of our history and why so many in the African-American community raise the issue of black lives matter," says Rep. John Conyers. "Passage of the Emmett Till Act represented a commitment to resolving the unanswered questions from one of the darkest periods in modern American history.  Reauthorization represents a further investment in our history and will allow the Department of Justice to resolve remaining issues and set to rest the ghost of the civil rights era."
"Because many of these families have waited for closure 50 years or more we urge Congress to move swiftly to reauthorize the Act," says McDonald.
---
Meeting Demands of the Cold Case Justice Initiative and Social Justice Groups, Emmet Till Reauthorization Act Passes Senate by Unanimous Consent
July 15, 2016 – With bipartisan, unanimous consent in the U.S. Senate last night, passage of the Emmett Till Unsolved Civil Rights Crimes Reauthorization Act of 2016 is one step closer to becoming law. The Cold Case Justice Initiative (CCJI) at Syracuse University's College of Law and partners like activist Alvin Sykes and organizations including the NAACP, SPLC, Georgia Civil Rights & Cold Cases Project, Emmett Till Legacy Foundation, Mamie Till Mobley Foundation and the Northeastern University Civil Rights & Restorative Justice Project played an instrumental role advocating for stronger provisions and passage of the bill."The United States Congress took a substantial step forward, providing the opportunity for justice for the victims of Civil Rights Era racial murders and disappearances," says Paula Johnson, professor of law and co-director of the CCJI. "Since beginning our work in 2008, we have consistently demanded the need for thorough investigations and a full accounting of those who were killed or disappeared during the Civil Rights Era and beyond. This reauthorization will do just that.""We appreciate that the Senate came together to pass the Reauthorization Act without rancor and division," says CCJI co-director and law professor Janis McDonald. "It is an affirmation that this effort is the right thing to do for our nation so we want to thank the senators on both sides of the aisle who stood behind this push for reauthorization."The effort in the Senate was led by Senator Richard Burr (R-NC), who has worked alongside his counterpart in the House of Representatives, Congressman John Lewis (D-GA).  In addition to Senator Burr fellow Senators Patrick Leahy, Claire McCaskill and Roy Blunt were instrumental in the Senate process while Congressmen John Conyers and James Sensenbrenner have also worked on the House side.The original Emmett Till Unsolved Civil Rights Crime Act of 2007 was scheduled to expire in 2017. "Much work remains to be done to investigate the killings and disappearances of victims of racially motivated violence during the Civil Rights Era," says Johnson. "The Reauthorization Act not only extends the sunset provision of the original legislation, but enhances several aspects of the law so that the prospect for justice can be realized."The Reauthorization Act thus calls for:
full accounting of all victims of racial murders and disappearances from the Civil Rights Era, and beyond, so that all victims of such violence will be identified and cases investigated and adjudicated where possible;
thorough review of open and previously closed cases to ensure that the Department of Justice, FBI, and state and local law enforcement undertake complete assessments prior to determining further legal pursuit or closure of cases;
Department of Justice collaboration and communication with law enforcement and other entities who work on these issues to bring collective expertise and insight on determinations about cases; and
greater access and release of information under the Freedom of Information Act (FOIA) when cases have been closed so that family members, advocates, academics and investigative journalists can obtain and analyze the full information about cases.
"As we have seen in recent weeks, racial justice remains an imperative for U.S. society," says McDonald. "Too often, in the past and the present, racially motivated crimes resulting in death or grave injury have been committed with impunity. The Emmett Till Unsolved Civil Rights Crimes Reauthorization Act of 2016 recognizes the importance of rectifying these wrongs and bringing perpetrators of these crimes to justice.""The Reauthorization Act offers the promise of justice for the families and communities who have suffered losses and lack of faith in the justice system," says Johnson. "Now that the Senate has acted, the Cold Case Justice Initiative urges the House of Representatives to do likewise and pass the Act. The families of the victims, the communities that have been most directly affected, and the public at large demand and depend on their government and law enforcement officials to fulfill the promise that justice delayed is not justice denied. It is never too late for justice."
---
Related Stories